About McKEON LAW, PLLC
Since 1972 McKeon Law have been fierce advocates for people who suffered harm due to someone else's negligence. We represent people who were hurt in car crashes, workplace accidents, slip-and-fall accidents, and other types of traumatic events. During our many years of practice, we have built a reputation for caring for our clients- and aggressive advocacy on their behalf.
At McKeon Law, we understand the challenges that our clients and their families face following a personal injury. The weeks and months following an accident can be painful, emotional, and stressful. You may be asking: "who will pay for my medical expenses?" "What if I am unable to work again?" "How will I provide for my family?"
If you have been injured in an accident because of another person's negligence, you need a local law firm on your side with the experience and resources necessary to get you what you deserve.
We are dedicated to helping our clients and their families navigate through the frustrating legal process with personal care and attention. We want you to move forward with your life and recovery. If you are in need of high-quality, exceptional legal representation, McKeon Law is Butte and Southwest Montana's trusted, local, personal injury law firm. For over 50 years, McKeon law has represented those who have suffered injuries in accidents, including: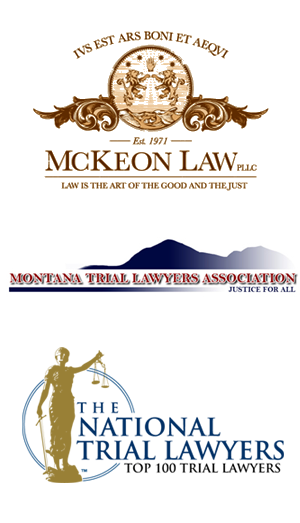 Personal Representation you Deserve
At McKeon Law, we pride ourselves on providing you with the personal, hands on representation you deserve. Because McKeon Law cares about their client and their client's future, we devote every moment and resource to protecting your rights and interests, while working to obtain the just and fair compensation you deserve. We have a reputation for not only standing up for our clients, but for successfully prevailing for our clients time and time again.
To Schedule a FREE CONSULTATION please get in touch →